NEWS
Matt Kemp Throws Rihanna a Birthday Bash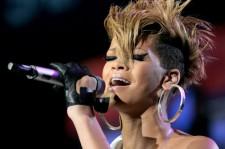 To ring in Rihanna's birthday, L.A. Dodger Matt Kemp opted to surprise the pop star and throw her a birthday party in Phoenix.
According to E! Online, Matt arranged for the now 22-year-old to celebrate in style with Sprinkles cupcakes, bottles of Ace of Spades and Johnny Walker Blue personally engraved, and even a chef who prepared authentic Jamaican cuisine.
Article continues below advertisement
"It was so sweet and she was really surprised. She looked just beautiful," a source at E! Online confirms.
And the fun didn't stop there as Matt also surprised Rihanna with a diamond necklace and specialized birthday cake featuring some of the artist's tattoos.
The soiree held about forty guests including friends from both parties and had Rihanna shocked.
Although Rihanna has claimed to be just friends with Matt, the pair was recently seen getting pretty cozy in Mexico.