NEWS
Matthew Morrison Responds to Jonah Hill: "We Will Settle This Like Men"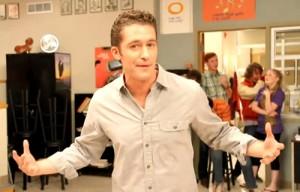 Article continues below advertisement
Well, Matthew heard him loud and clear! The Glee star sent a video message to Jimmy for Jonah last night on Late Night With Jimmy Fallon.
"Oh hey, Jimmy, what's up?" he says. "I heard that Jonah said I should bring my sh-- next time. Well, guess what? This is next time. You think I can't sing my way out of this? I can sing my way out of it and I can dance my way out of it. Pick a date and I will meet you on Late Night and we will settle this like men."