NEWS
Max Adler "Shocked" to Kiss Chris Colfer on 'Glee'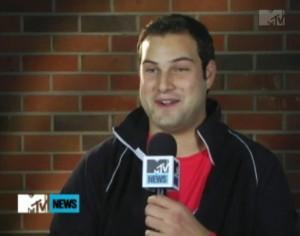 Last week's episode of Glee left many viewers shocked by Max Adler's bully character Dave Karovsky's actions, but Max says he was just "as shocked as anybody else!"
OK! GALLERY: DARREN CRISS CELEBRATES HIS SIGNED GLEE DEAL WITH HARRY POTTER PREMIERE
**WARNING: SPOILERS BELOW!**
"I just got the script like any other script. I had no clue what was going on," Max told MTV News of the "Never Been Kissed" episode. "I saw Ryan Murphy at the premiere, and he said, 'We just wrote some really good stuff for you for episode six,' and I was like, 'Oh, cool. Some more slushies?' "
Article continues below advertisement
"And then I got the script, and I was reading that scene, and Kurt, he just doesn't let up," Max says of his interaction with Chris Colfer's character. "He keeps on me and he keeps on me, and I thought, 'I'm going to punch him in the face. This is getting serious.'"
"And then I turn the page, and it says: 'Karovsky kisses Kurt.' And I was like, 'What?' I jumped off the couch," Max said. "I was as shocked as anybody else was. It was totally unexpected."
OK! NEWS: GLEE CAP — "NEVER BEEN KISSED": KURT INCHES CLOSER TO LOVE INTEREST
But Max and Chris had no reservations doing the scene.
"We just kind of showed up. I said to Chris, 'Hey, how are you doing? Ready to do this?' And he said, 'Yeah.' And the crew was really mature about it," he explained. "No one was teasing or poking fun, everyone was really cool."
"And Chris was just great. He's probably the best actor I've worked with," Max added. "He just gives so much and you connect with him in every take. As soon as we did the first few rehearsals, he said, 'I have a feeling this is going to be a pretty important scene.' I said, 'I'm kinda getting that vibe too.' And then we just did it and committed and focused. We didn't really talk to each other in between takes, kept our game faces on and went home for the night."
"So, yeah, first time I've kissed a guy," Max concluded, "and I'm glad it was Chris Colfer!"
Watch Max's interview below!