NEWS
Maxim's 2012 Hot 100 Announced Featuring Bar Refaeli, Olivia Munn, Mila Kunis & Katy Perry!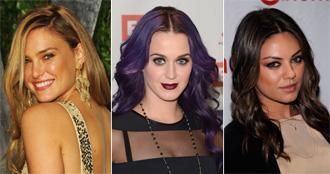 Ladies and gentlemen, check out the new set of gorgeous women who are gracing this year's Maxim Hot 100 list!
From models to actresses to singers, 2012's roster contains some of the most beautiful stars, including Kristen Stewart, Emma Stone, Jennifer Lawrence, Selena Gomez, Jennifer Lopez, Jessica Biel, Scarlett Johansson, Jessica Alba and Zooey Deschanel! 
So who topped the list? None other than the stunning Bar Refaeli, who still can't believe she beat out the compeition. 
Article continues below advertisement
"I never get used to it, because when I wake up in the morning, I put on my baggy jeans and my T-shirt, and I feel not even close to being sexy. So when they come to me with these titles, I'm like, 'Wow, I didn't even know I'm sexy,'" she says. "You know, you forget it. It's a really big compliment." 
OK! GALLERY: KATRINA BOWDEN SIGNS COPIES OF HER 'MAXIM' ISSUE AT NBC STUDIOS! 
Bar, who came in at No. 6 last year, took over the first place spot from Rosie Huntington-Whiteley, who sits at No. 11 this year. Olivia Munn remained in second place, while Mila Kunis glided into third! 
Article continues below advertisement
14. Lea Michele
15. Kristen Stewart
16. Charlize Theron 
17. Scarlett Johansson
18. Katrina Bowden
19. Victoria Justice
20. Jennifer Love Hewitt