NEWS
Rosie Huntington-Whiteley Tells 'Maxim': My Lips "Change Color With My Mood"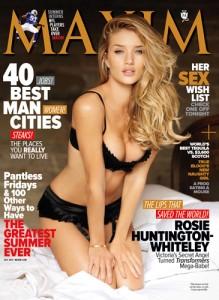 Rosie Huntington-Whiteley was number one on Maxim's Hot 100 List, but didn't actually star on the cover. So now Maxim has given the Transformers: Dark of the Moon star a cover devoted just to her — and her gorgeous lips! 
OK! NEWS: SHIA LABEOUF SAYS MEGAN FOX IS AWKWARD ABOUT BEING SEXY & ROSIE HUNTINGTON-WHITELY ISN'T
Rosie's lips have a special talent.
"The rest of my body requires a lot of upkeep, but the lips are one thing I don't have to work on," she tells Maxim. "They're funny, because they change color with my mood. They get really, really red when I'm angry or passionate, and pale when I'm miserable or tired. But I suppose everyone else's do, too."
Article continues below advertisement
"They have a life of their own," Rosie adds. "They get me in trouble. You know mood rings? I've got mood lips."
And perhaps that's why she got the female lead (a role previously occupied by Megan Fox) in Michael Bay's Transformers, because they bonded over their lack of subtly.
"I don't think anything is subtle on a Michael Bay set," the model/actress says. "Everything is 10 times what it is in reality. More fire, more noise, more explosions! Faster, harder … I was thrilled to witness it all."
Transformers: Dark of the Moon hits theaters June 29.