NEWS
Megan Fox a Steve Buscemi Look-a-Like? She Thinks So!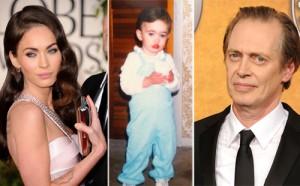 Megan Fox's toddler-self has a doppelgänger! Well, at least according to the bombshell herself. Megan took to her Facebook page and created an album dedicated to her baby years and her Hollywood look-alike (no, not Angelina Jolie) — Boardwalk Empire's "It"-man Steve Buscemi!
Megan titled her baby pic FB album, "I Look Like Steve Buscemi" and she received over 25,00 Likes and 3,6oo comments — some agreeing with her baby doppleganger and others disagreeing.
Article continues below advertisement
Do you think the sexy face of Armani looks like the Boardwalk Empire actor? Share your thoughts in the comments below!