NEWS
Megan Fox, Tomb Raider?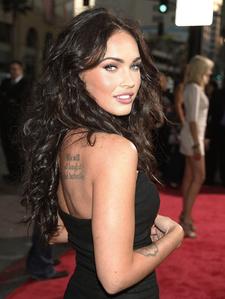 Millions of Tomb Raider fans saw their fantasy of Lara Croft come to life when Angelina Jolie first played the live action version of the sexy adventuress. Could super sultry
Transformers star Megan Fox be next to slip on those short shorts?
Terminator Salvation executive producer Dan Lin floated that idea to about.com during an interview at the film's premiere, saying he's going to keep the Lara Croft franchise going with an "origin story." If so, he'd need a younger version of Lara, causing speculation that Megan, a beauty in the vein of Angelina, would be a prime candidate for the character.
Article continues below advertisement
Looks like the legions of lovelorn fans will just have to wait and see!
Recent pics of Megan Fox:
<a href="http://www.okmagazine.com/pixandvids/gallery/14397/1" target="_blank"><img src="https://d-images.okmagazine.com/img/photos/large/29747.gif" height="100"/></a> <a href="http://www.okmagazine.com/pixandvids/gallery/14397/2" target="_blank"><img src="https://d-images.okmagazine.com/img/photos/large/29746.gif" height="100"/></a> <a href="http://www.okmagazine.com/pixandvids/gallery/14397/3" target="_blank"><img src="https://d-images.okmagazine.com/img/photos/large/29745.gif" height="100"/></a> <a href="http://www.okmagazine.com/pixandvids/gallery/14397/4" target="_blank"><img src="https://d-images.okmagazine.com/img/photos/large/29744.gif" height="100"/></a> <a href="http://www.okmagazine.com/pixandvids/gallery/14397/5" target="_blank"><img src="https://d-images.okmagazine.com/img/photos/large/29743.gif" height="100"/></a> <a href="http://www.okmagazine.com/pixandvids/gallery/14397/6" target="_blank"><img src="https://d-images.okmagazine.com/img/photos/large/29742.gif" height="100"/></a>