NEWS
Mel Gibson & Martha Stewart Both Welcomed Grandchildren This Weekend!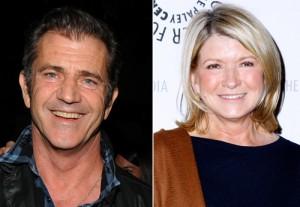 Mel Gibson welcomed his third grandchild this weekend, a great way to celebrate an end to his legal woes as he avoided jail time for his battery misdemeanor in court on Friday. Martha Stewart also welcomed a grandchild this weekend, the first for the craftmaster who we bet has already knitted some pretty serious blankets for her daughter's bundle of joy!
Mel's daughter Hannah gave birth Saturday night to a baby boy, TMZ reports. This is Mel's third grandchild, two boys and one girl, all from Hannah and her husband Kenny Wayne Shepherd, a blues singer.
Article continues below advertisement
OK! NEWS: MEL GIBSON'S EASY COURT HEARING — PLEADS NO CONTEST, NO JAIL TIME SENTENCED
Martha's only daughter, Alexis, 45, welcomed a daughter this weekend via a gestational carrier after a lengthy struggle with infertility.
"I am really thrilled to share some very exciting news with you," Martha said on today's Martha Stewart Show, via E! Online. "At 12:58 a.m. on March 8, little baby Jude, my first grandchild, was born. It's very exciting and Alexis and the baby are doing very well."
"They're home in New York in their apartment and I stopped in last night after a business trip and I got to see her when she was about 36 hours old — she is very alert and doesn't cry. Ideal baby...I'm happy for Alexis that she doesn't cry...and she is eating well and doing all her natural things and she's cute and she has Lexie's pouty little mouth. Very, very lovely child."
OK! VIDEO: ICE QUEEN MARTHA STEWART HEATS UP THE STRIPPER POLL
"Good luck baby Jude and good luck Alexis. You're on to the next phase of your life  —motherhood," she concluded.
Alexis took to her blog to post pictures of her adorable bundle of joy.