NEWS
Melanie Fiona Shares Some of Her Favorite Firsts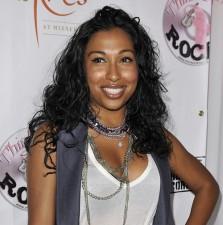 Melanie Fiona shares exclusively with OK! some of her most memorable first-time experiences. The R&B singer received her first Grammy nomination for Best Female R&B Vocal Performance for her hit "It Kills Me." Melanie shared memories of her first Grammy party with OK!. "SRC Universal Motown party down at Cartier in L.A," she says. "And it was gorgeous."
"There were ice sculptures, and I got to walk in as a signed artist," she continues. "It was pretty cool to meet a lot of different people and have Steve Ripken be like, 'This is my new signed artist.' "
Article continues below advertisement
First performance in public?
One of my first performances that I did as an artist, I opened up for Keyshia Cole and Robin Thicke at the House of Blues in L.A. I remember being completely nervous, and I rarely get nervous. But I was really, really nervous, to the point where when I went up there I blacked out, and I don't even remember what that show was about. All I remember was getting off the stage and somebody was like, "Who was that on stage, what happened?" And it was an exhilarating moment for me because it was an out-of-body experience. That was one of my first performances, and I was like "Oh my god! I just performed at the House of Blues opening for Keyshia Cole and Robin Thicke." They loved it, though. Queen Latifah was there and she was like, "You are amazing, you are incredible."
First duet with an idol?
The first duet I remember is Musiq Soulchild. He was one of my favorite artists, and he came right around the time I was working with my producer, and he asked me to do background vocals. This is before anybody knew who I was, and I was so excited. That was my first collaboration with an artist I knew.
CLICK HERE FOR MORE SCOOP ON MELANIE FIONA!
First red carpet experience?
My first red carpet experience was that Cartier party. I remember I was trapped in Canada without a visa, so I couldn't go to any parties and then I got there and I was like, "Step and repeat, step and repeat. There's the red carpet smile — my face is hurting, but smile, pose," and I was like, "Oh my god," and it was such a cool experience for me the first time, but now I'm like, "Relax, have fun. You get it now."
Article continues below advertisement
BE SURE TO CHECK OUT ALL OF OK!'S GRAMMY COVERAGE!
First thing you do when getting ready for a party?
I'm late. Always. All the time, no matter how hard I try. So, usually, when I get ready for a party I always try to figure out what I'm wearing first. That's the first thing. Figure out what you're going to wear, then build off of that. And I'm an accessory queen and I always feel like accessories make the little black dress look like a million bucks.
First Ne-Yo event?
I'll tell you this. Ne-Yo, before Ne-Yo became Ne-Yo and had his record deal, we met at a studio and he wrote a song that I cut. Many, many years ago, when I was first recording music. I remember, "Oh, yeah this guy named Ne-Yo" and I was like, "He's amazing." That's the only time I've been around him. We haven't gotten the chance to catch up and re-live that moment. I don't even know if he remembers if that's me. It was a song called "Troubled," a song he wrote a long, long time ago. But it is crazy. For me, it's just about tailoring the show to fit each audience. I don't like to do the same show everywhere.
Article continues below advertisement
First record you ever bought?
I want to say it was New Kids On the Block or Brandy. I'm pretty sure it was one of those two and then my first favorite song ever was "The Greatest Love of All" by Whitney Houston. That song kind of became my anthem as a little girl. My dad used to play it on the guitar, and then I used to sing it. Whitney Houston, by far to me, had the absolute sweetest voice ever, and her voice single-handedly made me fall in love with singing.