NEWS
Melissa Etheridge on Break-Up: "It's Been a Long Time Coming"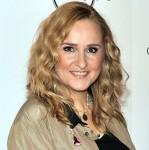 Melissa Etheridge opened up to OK! on Tuesday night about her recent split from wife Tammy Lynn Michaels Etheridge.
"It's been a long time coming," the singer sighed. "It's hard, as any of these things are. It's hard to do it in public because there's no easy sound bite to say, this is what happened and so this is what's going on."
OK! NEWS: MELISSA ETHERIDGE TALKS HER LIFE AFTER BREAST CANCER
"And even if I did, the perspectives would always be different so there's a lot of sadness. And yet, she'll always be in my life because we have two children."
Article continues below advertisement
When asked after her Tuesday night Dancing With the Stars performance how she's dealing with her new unattached status, Melissa, who married Tammy in Malibu in 2003, said: "That's a lot of work, that's a lot of figuring out."
OK! EXCLUSIVE: HOW BROOKE BURKE GOT HER INSPIRING BIKINI BODY
Meanwhile, she and Tammy have made it a point to take care of their twins, daughter Johnnie and son Miller, 3. "They're wonderful. There's a lot of interaction because of the kids and we keep that going and that's good."
MORE ON:
Melissa Etheridge
Melissa is raising four children, as she also had two with her previous partner, Julie Cypher. "Being a mom takes up most of my time and most of my energy."
OK! NEWS: ROSIE O'DONNELL DISCUSSES LIFE AFTER BREAK UP
The rock icon will hit the road in June on a concert tour to support her new CD, Fearless Love. "I'm going to be touring all summer and the kids will come with me," she said.
By Carole Glines