NEWS
Melissa & Joey Search for Smiles Before 'Dancing With the Stars'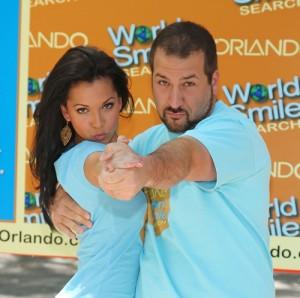 Dancing With the Stars alum Joey Fatone and Melissa Rycroft teamed up at Orlando's World Smile Search Kick-Off in NYC, but that's not the only team-up these two are working on. Joey and Melissa talked to OK! about being chosen by fans to dance together on DWTS next season and how they need to start practicing now!
OK! NEW: NIECY NASH JOKES ABOUT KATE GOSSELIN
Joey and Melissa were recently in NYC for the "World Smile Search." SmileTrain, a non-profit organization that provides funds for cleft lip and palate surgery for kids worldwide, is partnering with The Orlando Convention and Visitor's Bureau to select 67 winners to help celebrate World Smile Day in October in Orlando, the city that "Makes You Smile."
Article continues below advertisement
"We're going to be picking some people that are going to be able to write down a kind of a story that makes them smile about Orlando, Fla., or maybe even a little video," Joey explained to OK!. "We're going to be picking 67 people across the world and will have some smile ambassadors as well that are going to be traveling around and when that happens on Oct. 1, they're going to be flying in for World Smile Day, which is kind of cool and also doing a good cause as well."
"We really want to raise awareness to the organization, as well as raise money," Melissa added. "We want to help some of these children to have surgeries and help improve their smiles and their quality of life and our goal specifically for this is to get 67."
OK! NEWS: DWTS WATCH — OLYMPIAN EVAN LYSACEK TANGOS TO THE TOP SCORE
While Joey and Melissa are trying to help the SmileTrain, they're making their fans smile by dancing together on DWTS.
Article continues below advertisement
"There's a thing called Design A Dance, where they pick the celebrity and the professional dancer and the costume and the song and the style of the dance," Joey told OK!. "They picked the tango to do rock n' roll night with and they picked two celebrities as far as dancing together for the first time. You never see two celebrities dancing together on that stage. So Mark Ballas is going to be doing the choreograph."
So are they ready to get back to dancing?
"NO!"Joey exclaimed. "You've only been out of it a year but I've been out of it..."
"18 years…" Melissa joked.
"It's ridiculous," Joey agreed. "It happens."
"We supposedly are having just a week before the show for rehearsals," Joey added about their rehearsal schedule. "I don't know if that's a lot or enough."
"It's not enough and it's not a lot and you know, the only thing I think we can promise is that we'll have fun," Melissa said. "Steps may not be right."
Article continues below advertisement
"If we screw up, we'll smile," Joey added.
CLICK HERE FOR ALL OF OK!'S DANCING WITH THE STARS NEWS!
The DWTS alum are still watching this season and Melissa did have a favorite, but he's already left.
"Well, my votes by default are going to Tony because he was my old partner, but now he's gone so I need to see where I'm going to divvy mine up this time," she explained.
So what did Melissa think of Tony reportedly having trouble working with Kate Gosselin?
"I know Tony takes that job very very seriously. Tony is a professional on all levels," Melissa explained. "He wants that dance to be as perfect as possible and I learned pretty early on, in the role that we were in, you just sit down, that's their job. I trust them and that's their job. It's a learning process with some people as to how much to say and when to sit back and when should I just trust, and they're learning slowly."
Article continues below advertisement
"Some people do have trust issues with that and some people have never been told what to do in that sense and in that light where 'You're doing that wrong, you need to do it again' and it's like 'What are you talking about? I do it right,'" Joey added.
"It's hard," Melissa agreed. "Everybody's coming in very talented, so to hear that you're not doing something right and you're getting judged, it's kind of a beat to everybody's ego."
When Melissa watched the rehearsals she joked, "I was wondering how many times he'd wanted to quit on me but just didn't tell me."
OK! GALLERY: STARS SHINE AT THE KENTUCKY DERBY
But now they're looking ahead and, since Joey was on the show, a lot has changed!
"My daughter was probably 5 years old. I have a 3-month-old daughter now and yeah it's been crazy," he said. "A great crazy span. A 9-year-old and a 3-month-old."
Article continues below advertisement
"Are you going to have another one in nine years?" Melissa asked Joey.
"No, shop's closed," Joey said, although his kids get along great.
"My daughter loves it. She helps change diapers, feeds her and all that stuff. She's absolutely loving it," he said. "I didn't know what exactly was going to happen, but it's great that when she gets older she'll be a built-in babysitter. It's nice because now I'm able to do things like this, like World Smile Search, and be able to get around now that she's 3 months old and I'm able to do that and I've been doing this and running around dancing with Melissa right here."
OK! EXCLUSIVE: WHAT I ATE TODAY — MELISSA RYCROFT
As for Melissa she's enjoying married life right now, before having babies.
"Kids are in the future, but not the near future," she explained to OK!. "Not planning for probably another three years."
Her husband has been spoiling her and Melissa tried to share the advice to Joey.
"He has brought me home flowers," she said. "When I'm at home and he's at work and he'll come home and know that either I'm stressed out or something, he'll have brought me… Joey, it makes me smile. Think about it for your wife."