NEWS
Melissa McCarthy Dishes About 'Bridesmaids' Audition & Wanted to Channel Guy Fieri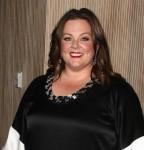 To say that she's having a stellar year would be an understatement. The Emmy nominated actress Melissa McCarthy is part of the reason for Bridesmaids incredible success and there's no stopping the star of Mike and Molly now! In a recent interview she provided in the inside scoop on the audition that landed her the role in this summer's must-see movie. Here's a hint: Melissa's goal for her character Megan was to wear a wig which resembles Food Network star Guy Fieri!
Article continues below advertisement
OK! VIDEO: WATCH MELISSA MCCARTHY ALMOST FAINT AFTER HEARING HER EMMY NOMINATION ON LIVE TV
The August issue of GQ profiles the actress. In the piece, she explained, "For the audition, I wore no makeup and a bad pant. Once I look like the character, it really locks me in, even if people sometimes say, 'We need you not to be repulsive.'"
In case anyone's wondering, Bridesmaids' director Paul Feig nixes the notion that women can't be funny. "Let any debate about "women aren't funny" be put to rest," he said. "I would do anything with her, and she's got such range that she kind of can do anything. The worst thing you could do, if you had a Melissa McCarthy in your employ, would be, 'Can you just stick to the script?'"
OK! VIDEO: WATCH JOEL MCHALE PREPARE MELISSA MCCARTHY FOR EMMY NOMINATION ANNOUNCEMENTS!
Actually, the actor who plays Air Marshal Jon in the movie is her husband Ben Falcone who mentioned the plane ride scene was wildly improvised. "Melissa's talking about putting a Nano up my butt, or up her butt—the Nano was going up someone's butt. I ruined millions of takes by laughing."
Improvisation aside, Melissa and Ben are apparently obsessed with Diners, Drive-ins and Dives. She noted, "I wanted to wear a short white spiky wig, and they were like, "You can't actually be Guy Fieri." I kept wanting to wear crazy white Oakleys on the back of my head, like he does, but somehow they never got in."
OK! NEWS: BRIDESMAID STAR WILL GET KNOCKED UP
What did get in, however, was her over the top humor. Driving home from the audition she recalled wanting her character to be comfortable in her own skin. "I was thinking, I got too weird. Should I turn the car around and do that cheesy actor thing of 'I can do it better! Give me another shot!' "
Looks like she didn't have to turn that car around after all.