NEWS
Melissa McCarthy on Meeting Brad Pitt & Angelina Jolie: 'They're Really Chatty and Bubbly'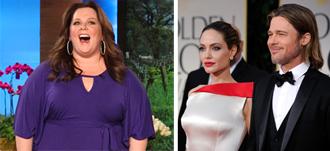 Even an Emmy-winning and Oscar-nominated actress gets nervous around Hollywood's hottest couple! The hilarious Melissa McCarthy, who was just nominated for an Academy Award for her role in Bridesmaids, appears on The Ellen DeGeneres Show today and opens up about meeting Brad Pitt and Angelina Jolie at the Golden Globe Awards.
"I'm already in some weird altered state talking to Brad and Angelina," Melissa tells Ellen DeGeneres. "They're so nice and chatty and really bubbly."
Article continues below advertisement
OK! GALLERY: THE HOTTEST COUPLES AT THE 2012 GOLDEN GLOBE AWARDS
But that's when the Mike & Molly star got completely overwhelmed and became a typical Brangelina admirer.
"Finally, I got a little weird, and I was like, 'You have to stop for a minute because it's a lot, visually, to take in,' I said that to them. They just kind of laughed," Melissa recounts. "I said, 'No, really. It is a lot, visually, to take in.' "
"She's, like, weirdly glowing. She's so beautiful," Melissa says of Angelina, adding of Brad, "He's kind of cute, too. And then I was like, 'Okay, I'm sorry.' I needed to, like, regroup, because they're kind of a lot."
But just when she thought she was pulling herself together, someone tapped Melissa on the arm. She turned around, and who was it? Meryl Streep!
OK! NEWS: WATCH MELISSA MCCARTHY GET CROWNED OUTSTANDING LEAD ACTRESS AT THE 2011 EMMY AWARDS
Article continues below advertisement
"My brain snapped in two," Melissa says. "And then I really didn't know what to say. I just kept going, 'Oh, my God. You're Meryl Streep.' And she was chatting like a normal human being. And I said, 'Oh, my God. I'm sorry. I thought over the years, so many things; if I ever got to meet you, what I would say. This is not it.' And, she goes, 'Oh, my God. Don't even worry about it.' For some reason I felt I need to bookend it and repeat: 'Oh, my God. You're Meryl Streep.'"
Well Melissa, one day, fellow celebrities will be starstruck when you introduce yourself at the Golden Globes!