NEWS
Michael Clarke Duncan & Omarosa Gush About Their New Romance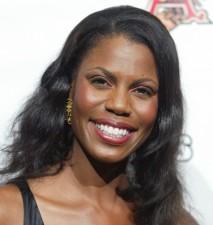 Even though Michael Clarke Duncan only knew Omarosa from her stint on The Apprentice as the mean girl, that didn't stop him from falling for her when the duo met at a local grocery store. The newly in love pair gushed about their romance on Thursday night.
The Green Mile actor revealed to reporters that he met his girlfriend, "At a Whole Foods in the produce section…I was in there one day and I saw her and I thought to myself, that is a gorgeous woman. She is fine."
Article continues below advertisement
To top it off, Omarosa's former boss, Donald Trump, has given the new couple his stamp of approval.
DONALD TRUMP & OMAROSA TO REUNITE FOR DATING SHOW
"We just sat next to Trump at the front row of the HollyRod Foundation so they got to meet each other. He gave me the thumbs up," Omarosa explained.
When asked if the couple have plans to wed in the future, Omarosa hinted… "Well, we are going to Barbados next month, so..."