NEWS
Michael Jackson's 'This Is It' DVD Release in January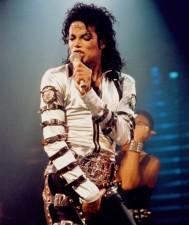 If you missed its short run in theaters, have no fear! Michael Jackson's This Is It, a film about the Michael Jackson's final rehearsals before his death, will be released on DVD on Jan. 26, the Associated Press reports. The DVD release was announced today by Sony Pictures Home Entertainment.
The King of Pop has scored a thriller at the box office, raking in more than $200 million for the behind-the-scenes concert documentary.
Article continues below advertisement
The movie has made $61 million in the US and it has exceeded $140 million overseas, a figure that includes $27.2 million in Japan, $14.3 million in the UK and $12.1 million in Germany.
Sony bosses say the movie has done so well because the MJ's fans are seeing the film again and again.
This Is It captures Michael's final performances as he rehearsed for his final 50-date retirement tour. In the movie he performs such hits as "Beat It," "Thriller," "Human Nature" and "Billie Jean."
The $200 million-plus gross is almost three times more than last year's Hannah Montana/Miley Cyrus: Best of Both Worlds Concert Tour a movie some box — office watchers had used as a benchmark for This Is It.
The DVD includes two documentaries, "Staging the Return: Beyond the Show" and "Staging the Return: The Adventure Begins," which highlight Jackson as he prepared for the concerts.