NEWS
Michael Jackson's Kids' Receive Raise in $60,000 Allowance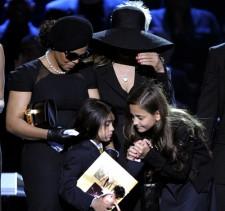 Michael Jackson's three children should be financially sound for a while. Prince, Paris, and Blanket Jackson have received a raise in their $60,000 monthly allowance, according to a new report.
Court documents obtained by TMZ detial on Wednesday the judge in the MJ estate case increased the children's monthly allowance. The new higher amount has not been released.
The upped allowance was deemed necessary after guardians and lawyers realized the monthly expenses for the children were underestimated.
Article continues below advertisement
Reports last weeks announced the LAPD finished its investigation into MJ's untimely death and the case will now travel over to the D.A.
Detectives reportedly finished the investigation late last month and the case will be formally presented to the L.A. County District Attorney in the next few weeks.
Many believe Dr. Conrad Murray will now face the music and be criminally charged in Michael's death.