NEWS
Michael Kors Reveals Project Runway's Wackiest Pitch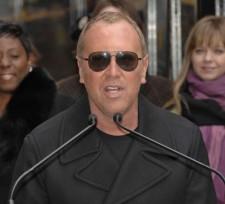 As a judge on the popular fashion reality series Project Runway, judge and designer Michael Kors has seen a whole lot of crazy in his day when it comes to out-there outfits. But at the unveiling of Project Runway Avenue (otherwise known as Fashion Avenue or Seventh Avenue in NYC), OK! wanted to know what the absolute wackiest pitch is that Michael's has ever received during his tenure on Project Runway.
Article continues below advertisement
Michael dished the dirt to OK! at Wednesday's event — which also featured fellow judge Nina Garcia and fashion guru Tim Gunn — celebrating the show's return to the Big Apple for its seventh season.
"The craziest pitch?" mused Michael. "It was someone's daughter's Bat Mitzvah and they wanted the theme to be Project Runway and that Nina and I should come and judge what the kids were wearing. That was our wackiest."
Hey, can't blame a 12-year-old girl for trying to "make it work"!
Reporting by Laura Lane