NEWS
Michael Lohan: "Dina Needs the Rehab for Her Denial"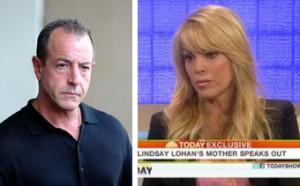 Well, we all saw this coming! Now that Dina Lohan has spoken out on Lindsay Lohan on the Today show on Friday, Michael Lohan says she's the one who really needs the rehab!
OK! GALLERY: LINDSAY IN REHAB MEANS SALON DAY FOR DINA & ALI LOHAN
"I think Dina needs the rehab for her denial, lies and other 'things,'" Michael told E! News of Dina's interview on Today. "It was one lie after another."
"Linds needs family therapy with Dina and me," he said. "It's all about money and controlling Lindsay and my kids to Dina, when she has failed miserably and it should be about our children's well-being. Dina and I caused this and WE need to fix it (AS PARENTS). It's sad that Dina would continue on this course."
Article continues below advertisement
OK! VIDEO: DINA LOHAN SAYS JUDGE WENT OVERBOARD WITH LINDSAY'S SENTENCE
"Dina needs the rehab. And maybe jail would 'suit' her. The only thing Dina got right in the interview is, 'Nothing has changed.' To that I agree… Dina is in denial."
And Michael doesn't think Lindsay's time in rehab right now is going to solve any of her problems.
"My bet is, this was only a Band-aid," he said.
And for everything else Dina had to say in the interview, Michael has response for all of it.
"As far as bringing up Kate and all the other nonsense," he said, "Get a life, Dina, stop passing the buck and avoiding the real issue…YOU!"