NEWS
VIDEO: Dina Lohan Says Judge Went "Overboard" With Lindsay's Sentence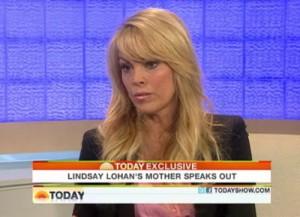 In a heated interview on the Today show, Dina Lohan sat down with Matt Lauer to defend her daughter Lindsay Lohan, the way she was raised and says the judge on her case went "overboard."
OK! GALLERY: LINDSAY IN REHAB MEANS SALON DAY FOR DINA & ALI LOHAN
Despite her 14 days spent in jail for a DUI probation violation, Dina says her daughter Lindsay is doing "wonderfully" even though Judge Marsha Revel went "overboard" on her case.
Article continues below advertisement
"The judge played hardball," Dina told Matt on Friday morning on Today. "Lindsay was in with alleged murderers and she's become friends with a lot of them. Lindsay rolled with the punches and she's doing wonderfully."
OK! NEWS: JUDGE REMOVES HERSELF FROM LINDSAY LOHAN'S CASE
Dina disagreed with Matt's suggestion that many feel Lindsay deserved to be punished.
"I think that's all propaganda and what people are reading," she said. "As you know, you're in the business of entertainment, so I think a lot of it is pre-orchestrated and you're reading things that are not based on fact."
OK! VIDEO: LINDSAY LOHAN'S ROAD TO REHAB GETS ANIMATED!
While Dina said she didn't condone Lindsay's behavior there is only so much she can do as a parent.
"As a parent, you have to let them go a little bit," Dina explained. "When she went out to Los Angeles when she was 19, I had to let her live and fall and fail and survive. Without failure, there's no success."
"You can't make your child not go out and go to a club and not get behind the wheel of a car," she added.