NEWS
Michael Lohan: Kate Major Was "Heavily Intoxicated"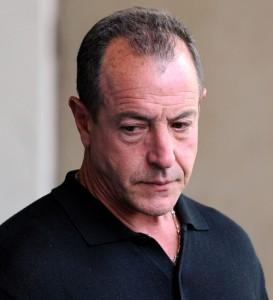 Michael Lohan is standing strong behind his story about the spat between him and fiancée Kate Major earlier this week — that could lead him behind bars! Michael told TMZ.com, he "never physically abused" Kate.
Not only did he not lay a hand on his fiancée, but Michael tells TMZ.com Kate was "heavily intoxicated" at the time of their altercation.
Article continues below advertisement
His lawyer, Lisa Bloom, issued the following statement, via TMZ.com.
"Michael Lohan 100% denies each and every one of Kate Major's allegations. He has never threatened to harm her, never assaulted her and never physically abused her in any way.
Kate was heavily intoxicated during the verbal argument between Michael and Kate in the early afternoon on Monday. Michael Lohan has been clean and sober for six years.
Michael Lohan is fully cooperating with the police investigation. No charges have been filed. He expects to be fully vindicated."
No word as of yet from Kate's camp on Michael's claims.