NEWS
Michaele Salahi Rises Above Weight Criticism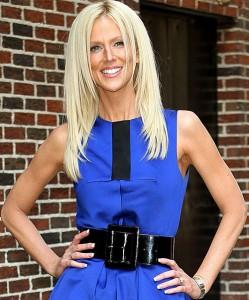 Real Housewives of Washington, D.C. star Michaele Salahi is no stranger to controversy, given her rise to national prominence thanks to her 2009 White House crashing incident and her war of words with Whoopi Goldberg, who used "choice words" after hearing the blonde beauty told others she pushed her during The View this week.
On Thursday's premiere episode of The Real Housewives of Washington, D.C., modeling agency honcho Lynda Erkiletian admits she thinks Michaele is anorexic. Now, Michaele (pronounce Mickelle) fights back against the claims -- and reveals she starts every day with a trip to Starbucks to pick up a hot chocolate with all the extras.
Article continues below advertisement
"I've always been a person to rise above," she tells me. "There might be people who think I'm too heavy, there might be people … there's always opinions. That's her opinion. I rise above it. I don't know what she feels by tearing me down will build her up? That's hurtful because I would never do that to anyone. But everybody's got an opinion. Some people spend a tremendous amount to try and look thin. I have certain things I deal with – maybe I'm thin, but maybe I have some other things."
Hmm, how does she stay thin?
"I do everything in moderation," she says. "I'm never someone to go out and have fried food every night. Would I have it every once in awhile? Yes. I love hot chocolate – that's my vice. Every day, I have to have a Starbucks hot chocolate, but I balance it the rest of the day. I know that I'm having all those calories in the morning to get me going, and I think - especially as you age through time, I was always naturally thin, but now I'm a health nut. I don't like a lot of sauces and things, so I think Lynda's comment is hurtful, but I forgive her, I move forward, I rise above it. If that's her belief, it's a wild statement. It's certainly hurtful, because there are people, and right now in America and in the world, especially I think what our First Lady is doing is good, especially the young people – she runs a modeling agency, so you don't really want to judge people either way about their weight. You let them be if they're healthy. I'm a healthy person. It's crazy. There are so many women who spend a tremendous amount on lipo to begin with, and I think it's great. Whatever makes them happy. If you're healthy and you're happy, let it be, but she's obsessed with my weight, and it's funny to me. I have no idea why! laughs"
Article continues below advertisement
Although Michaele is always fun and friendly, she also has a serious side.
"I think people see me as a party girl, and I am a party girl – there's no one who will bring the party bigger than I will," she laughs. "I like to have fun, but I also have a big heart and a great deal of substance. I care about people, and there isn't anyone I wouldn't help, so I think the misconception is that I'm just a party girl – a Barbie. I know the media has written me up as D.C. Barbie, and I like it, it's fun – but D.C. Barbie can not only be a party girl, but she can have a heart and make changes and do good."
Here's a pic of Michaele and I:
Pick up the OK! on newsstands now for a fashion shoot with the Real Housewives of Washington, D.C. The cover line is "Jen's Stealing Brad Back!"