NEWS
Michelle McGee: Affair Blame Goes to the Dogs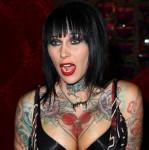 Michelle McGee went on Howard Stern's radio show Wednesday and talked openly about her alleged affair with Sandra Bullock's husband Jesse James. "I feel bad for her, I do," she said, but added...
OK! EXCLUSIVE: SANDRA BULLOCK COULD LOSE HER BABY
"They slept with 9 dogs in the bed... she liked to sleep with all the dogs in the bed," Michelle explained to Howard (via PopEater) about Sandra.
Article continues below advertisement
Michelle also went into detail about how she met Jesse on MySpace and was eventually invited to his shop for a tour, which ended up being a tour of his coffin-shaped office couch.
"Yeah, it wasn't excellent," Michelle said, but added he had strong hands and "literally ripped (my leggings) off."
OK! NEW: SANDRA BULLOCK IS BRINGING UP BABY!
Her relationship with Jesse wasn't filled with extravagant gifts or dinner dates.