NEWS
OK! EXCLUSIVE: Sandra Could Lose Her Baby!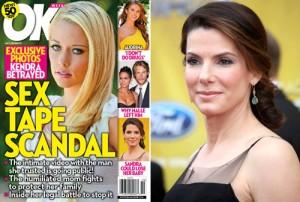 Two months before cheating scandal tore her marriage apart, Sandra Bullock quietly adopted a newborn she named Louis Bardo Bullock. In the new issue, OK! answers all the questions Sandra's fans are asking and reveals why she may not be able to keep her child.
OK! NEWS: GEORGE LOPEZ HELPED SANDRA BULLOCK KEEP ADOPTION SECRET
Could Sandra lose the baby?
It's possible. Sandra says she and Jesse originally started the adoption process as a couple. If the agency or the biological mother objects to Louis being raised by a single parent, the adoption could be canceled. "The birth mother could say, 'Wait a second, this is not what I signed up for, and I want to withdraw my consent,'" says family law attorney Celeste Liversidge, co-author of Last One Down the Aisle Wins.
Article continues below advertisement
OK! COVER STORY: KENDRA WILKINSON BASKETT — SEX TAPE SCANDAL
How did Sandra manage to keep the adoption secret for months?
"Sandra is a notoriously private person, so it wasn't hard for her at all to not tell people about Louis," says a friend of the actress. "She only really shares details of her life with a small circle of people, including her sister Gesine Bullock-Prado and, of course, her publicist, whom she trusts implicitly. Naturally, Jesse's kids knew. After news of Jesse's cheating came out, Sandra was really worried that he'd talk about Louis, but thankfully he kept his mouth shut."
OK! NEWS: SANDRA BULLOCK AND JESSIE JAMES' HOME FOR SALE
Why did the adoption take four years?
An adoption of an American child by a couple who are open to any race, ethnicity or gender should take approximately one year, explains Celeste. However, Sandra's celebrity made the process more complicated. "You'd have to find a birth mother who is willing to abide by a confidentiality agreement," says Celeste. "They needed to find someone who was trustworthy and really stable, because they are celebrities."
TO GET MORE OF YOUR SANDRA QUESTIONS ANSWERED, CHECK OUT THE NEW ISSUE OF OK! IN STORES TODAY!