NEWS
Michelle Obama: Bargain Shopper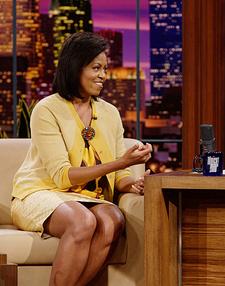 With only one week until the Presidential election, it's not only the candidate themselves who are being looked at from every angle – with Sarah Palin's $150,000 wardrobe, even clothes have become an important issue.
''Actually, this is a J. Crew ensemble,'' Michelle Obama told the Tonight Show's Jay Leno last night of her yellow sweater, skirt and blouse. ''You can get some good stuff online."
Although the potential first lady wouldn't aim any arrows at the Republican VP nominee for her high-end threads, she did say she and husband Barack spend their own money on their clothes.
Article continues below advertisement
''A VP pick, it's like being shot out of a cannon," Michelle said, adding that she wanted to be empathetic. "All of a sudden you're at the center of attention, and you want to look good. You're living in your home, minding your business, and all of a sudden you're on the national stage and everyone's watching.''
Speaking of everyone watching, Michelle said her two young daughters have already expressed some concern over their father's 30-minute TV commercials, airing nationally Wednesday night.
'' 'You're going to be on all the TV? Are you going to interrupt my TV?' '' Michelle says 10-year-old Malia asked.