NEWS
'Been a Long Time Coming': Mickey Guyton On Representing Black Women At ACM Awards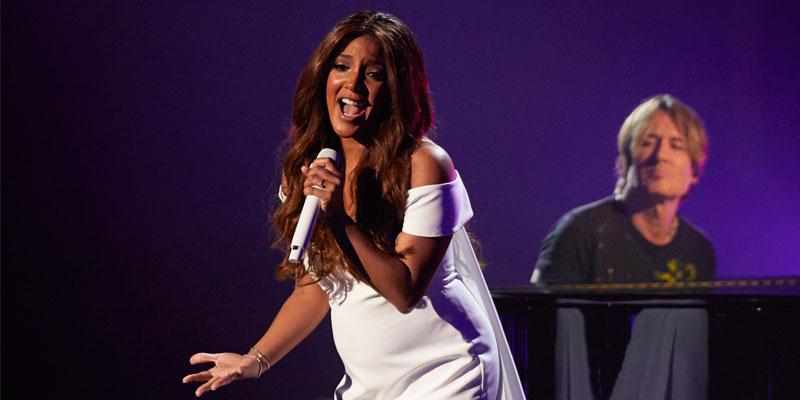 Mickey Guyton made history at the 2020 ACM Awards by becoming the first Black woman to perform at the event.
The 37-year-old spoke about her big moment with PEOPLETV ahead of the show and described what the occasion meant for her.
"Let me tell you, it has been a long time coming for me," the 'Black Like Me' singer said. "It's been a struggle for me for a long time. To get this opportunity to represent for Black women at the ACM Awards and to sing a song about the oppression of women and trying to change that — it really does mean a lot to me to be able to do that at the ACMs."
Article continues below advertisement
Of course, people were blown away by Guyton's stage presence. Maren Morris wrote, "Congratulations @mickeyguyton on an amazing performance and being the FIRST BLACK WOMAN to perform at the @acmawards!" while Kelsea Ballerini added, "Wow. @MickeyGuyton that is a performance that will make people listen, think, and change. Me included. You are a force."
Recently, Guyton, who is expecting her first child with husband Grant Savoy, realized she was "trying to write everybody else's song and everybody else's story when I had a unique story of my own."
Article continues below advertisement
She also took to Twitter to thank singer and songwriter Rissi Palmer, who had a similar experience in the industry.
"I just want to take a minute and thank @RissiPalmer I would have never had the courage to pursue country music if I had never seen you representing in country music before me. This is all because of you sis. Your courage gave me courage. Love you," she tweeted.
In 2011, Guyton signed with her label, but unfortunately, she felt like she couldn't truly be herself.
WELCOME BACK! TAYLOR SWIFT SINGS 'BETTY' LIVE FOR FIRST TIME AT 2020 ACM AWARDS
"I wanted to prove that I was country and prove that I could be in this space of people that I don't look like," she said. "And that they would feel comfortable and they wouldn't see that I was Black, but just saw that I was a great country singer. And doing that, I lost who I was, to be honest. And it took a long time for me to find myself."