NEWS
'Mighty Ducks' Star Shaun Weiss Is Sober, Looks Like A Million Bucks With New Teeth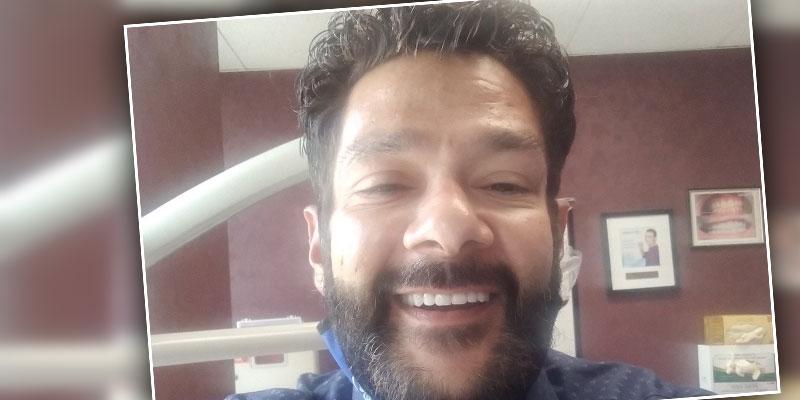 Looking good! Mighty Ducks actor Shaun Weiss flaunted his new teeth just eight months after he was arrested. In a photo obtained by PEOPLE, the 42-year-old — who looked unrecognizable in his January mugshot — took down his blue mask to smile for the camera.
Dr. Gabe Rosenthal gave the New Jersey native a new set of upper denture implants after his old ones were infected. Weiss will get the lower implants in the next few weeks.
Article continues below advertisement
Gallagher also got candid about Weiss' new chompers on social media. "Weiss is thriving. His face and mouth feels like 'tenderized meat' as he recovers from each oral surgery, but he is feeling blessed to be getting a new set of permanent teeth," he wrote. "His progress has been smooth and steady and he is well over 225 days sober. More pics and video soon."
In January, Weiss — who has struggled with addiction over the years — was arrested in Marysville, California, for breaking into a person's house and their garage. According to the press release, the Freaks and Geeks alum "displayed symptoms of being under the influence of methamphetamine and said he did not reside at the residence. Weiss also said the vehicle he was filtering through was not his."
Article continues below advertisement
14 CELEBS WHO HAVE NEVER BEEN ARRESTED
After his arrest, Gallagher spoke to PEOPLE about what his friend had been going through. "He's sick, he's mentally ill," Gallagher said. "He's just sick and everybody gives up on him. He's like a brother to me. I won't abandon him."
"All Shaun wants to do is stand on stage and make people laugh," he added. "He's one of the funniest comedians you'll ever meet, he's sharp, he's witty, he doesn't take himself too seriously. He understands the dire situation he's in. The reality is there's something where our brains go right, his brain goes left."
In order to help his pal get his life back on track, Gallagher — who shared a photo of Weiss looking weak earlier this year — set up a GoFundMe page to raise money for the former child star. As a result, he raised over $13,000, which will pay for his sober-living facility and buy him some food, in addition to getting him a car so he can work for a delivery service.
"Still a long road ahead but growing each week!" Gallagher noted.
Prior to his January incident, Weiss was arrested twice in 2018 — once for public intoxication and another time for shoplifting.