NEWS
Mila Kunis Convinced to Accept U.S. Marine's Corps Ball Invite By Justin Timberlake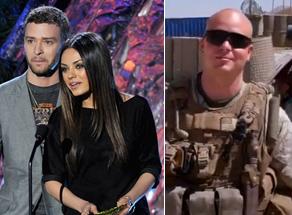 U.S. Marine Sgt. Scott Moore bravely made a YouTube page and video requesting Mila Kunis' company to the Marine Corps Ball and the message has gotten back to Mila. With a little encouragement from her Friends With Benefits star Justin Timberlake, Mila has accepted Scott's invitation!
OK! VIDEO: WATCH SGT. SCOTT MOORE ASK MILA KUNIS TO THE MARINE CORPS. BALL
During an exclusive interview with FOX411, Mila was asked if she saw Scott's video message that asked the actress to join him at the Marine Corps Ball on Nov. 18 in Greenville, N.C.
Article continues below advertisement
Justin asked his co-star, "Have you seen this? Have you heard about this? You need to do it for your country."
Whether she wants to or not, Justin promised Scott he'd get her to that ball!
"I'm going to work on this, man," he added as a direct message/promise to Scott. "This needs to go down."
OK! NEWS: MILA KUNIS TELLS JUSTIN TIMEBRLAKE "YOU HAVE A FINE A**"
And Mila decided to give in.
"I'll go, I'll do it for you," she told Justin. "Are you going to come?"
"They don't want me! They want you," Justin argued. "You need to do it for your country."
"I'll do it," she confirmed.
Watch Scott's video invitation, below!