NEWS
Mila Kunis: "I Don't Get Asked Out" & "I Prefer to Stay Home"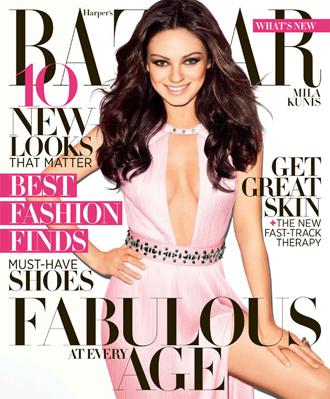 Mila Kunis is one of Hollywood's hottest girls, but the actress swears she's still single and sits at home with her best friend — a glass of wine! In the new issue of Harper's Bazaar, Mila opens up about the status of her love life, her struggles with her body after losing so much weight for Black Swan and her thoughts on plastic surgery.
OK! GALLERY: MILA KUNIS ATTENDS THE GOLDEN GLOBES 2012 RED CARPET
Article continues below advertisement
We find this so hard to believe, but Mila tells Harper's Bazaar that men are not lining up outside her door to take her out.
"I don't get asked out," she says. "This past year, I haven't been home, so who's going to ask me?"
Of course, she was asked to the Marine Corps Ball, but aside from that, it sounds like Mila's last serious relationship was with Macaulay Culkin. The two dated for eight years, until 2010, and Mila has no regrets.
"It was fantastic," she says. "I mean, I honestly think being single's great. Being in a relationship's great. It's all about the timing. I loved it."
OK! NEWS: MILA KUNIS NAMED GQ'S 2011 KNOCKOUT
And Mila is enjoying the single life right now.
"I don't go out very often," she explains. "I prefer to stay home and have a nice little beverage and watch television."
"My glass of wine and I are besties," she adds.
Article continues below advertisement
Mila works out with a trainer three times a week, but says her body "has never been the same" since her 20-pound weight loss for Black Swan.
"My shape is different. When I got down to 95 pounds, I was muscles, like a little brick house, but skin and bones. When I gained it back, it went to completely different areas," Mila says. "All the weight that left my chest went to my side, hips, my stomach."
And while Mila, 28, embraces her new shape, she's also embracing getting older..
"I will not put a needle in my body unless I have a medical reason," Mila explains. "But ask me in 10 years. Right now, I'm like, 'I'm going to embrace it,' but... I'm probably going to want to have something done. I have no doubt."