NEWS
Miley Delights Backstage at the CMT Awards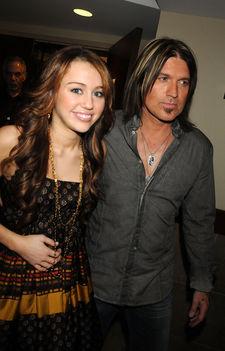 After shivering down the purple carpet before the CMT Awards, stars do their thing onstage and then stop by the press room stationed at Nashville's Belmont University. We dine on turkey wraps, potato chips and chocolate chip cookies inbetween flashes of greatness.
I bump into Miley Cyrus in the hallway, who has a gaggle of hangers-on trailing her every move, and she gives me a shout-out. Dad Billy Ray Cyrus seems thrilled to be living in her shadow. Really! He couldn't be more gleeful.
Article continues below advertisement
Taylor Swift says it's the best night she can remember. "There's nothing that's more important to me than my fans and making them happy," she says of winning the fan-voted video of the year and female video of the year awards. "I never want to let them down. I'm absolutely so flattered and humbled."
Three-time winner Kellie Pickler phones in from Scottsdale, Arizona. Get this!
"I am wearing pajamas now, but when I was on the satellite, I was wearing a Dolce and Gabbana top and no pants because it was only top up. It was only me. But I did have some great shoes on!"
Snoop Dogg gives me a knowing wink and calls me "baby" … Alan Jackson and I share a laugh after he pats himself with a tissue to wipe the sweat off his brow … Bobby Brown thinks his life is made for country music … Luke Bryan is pleased with the "party mode" on campus … LeAnn Rimes pretends to answer a ringing cell phone … Jewel and Tom Arnold riff on the presidential candidates, and urge Al Gore to run again. "He would win," Tom says.
Article continues below advertisement
Little Big Town's Kimberly Roads says gift bags make her feel guilty, but groupmate Karen Fairchild doesn't agree. "Our families love the gift bags. Moms and dads usually try to get their hands on the gift bags."
Brooks and Dunn's Ronnie Dunn got last-minute help from Billy Ray in getting tickets to the show after a neighbor bugged him to snag seats through an Indiana radio station. "They said 'you're one of the biggest celebrities,' and I said 'I don't have a chance.' I tried to call for an hour but the lines were tied up." He ditched the neighbor, and brought his 13-year-old daughter.
Rascal Flatts' Gary LeVox thinks their award looks like Snoop's microphone, and would like to get one custom-made for their tour. Joe Don Rooney lights up when we speak. Ohhh! So cute.
Reality doesn't bite for Dancing With The Stars castoff Julianne Hough, who is thrilled she met Faith Hill. "I was like 'oh my gosh, I'm meeting my idol.' I told her 'you are so inspiring and you've inspired me so much.'"
Article continues below advertisement
Celebrity Apprentice finalist Trace Adkins is trying a hand at acting, but says "I'm never going to stray faraway from what puts groceries on the table. There's a saying in country music that 'you've gotta dance with the one that brought you.'"
Naomi Judd makes me chuckle when she reveals her age as "sexy plus two." Whew!
Maureen "Marcia Brady" McCormick and Diana DeGarmo give a little wave. We had a great time together at the Lady Antebellum CMT Welcome Party the night before. ?
Check out the OK! on stands this week for more coverage of the CMT Awards. "Katie Fights Back: Don't Mess With My Family" is the cover line.