NEWS
Mischa Barton: Eyeing Josh Hartnett?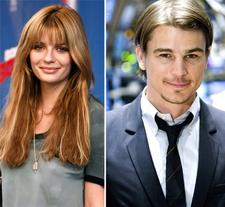 Does Mischa Barton have her sights set on Josh Hartnett?
According to Britain's MailOnline, when the OC star spotted him at a table in a London nightclub last night with Kings of Leon drummer Nathan Followill, she danced her way right through a pack of girls all trying to catch Josh's eye to get to him.
The site quotes a source at the club as saying: "Josh looked pretty bored and was totally ignoring Mischa. She persisted though, and kept getting closer and closer to their table while dancing provocatively.
Article continues below advertisement
"Lots of girls were trying to get near their table, where the two guys were drinking champagne and vodka cocktails. Mischa had a lot to contend with, but didn't give up."
Apparently the actress, who recently split with Rooney singer Taylor Locke after a seven month relationship, finally managed to strike up a conversation with the handsome Pearl Harbor actor.
Things seem to have gone pretty well, too, since it seems that the pair then headed back to his hotel at around 1.30am with a group of friends – only for Mischa to leave an hour or so later.
But if she's hoping for another invitation, Mischa may have her work cut out for her.
The site also reports that Josh, who's in the city performing in a stage version of the movie Rain Man, has been seen "getting cozy" with model Daisy Lowe, who only just split with producer Mark Ronson last week!