NEWS
MJ Doc to Star in Own Reality TV Special?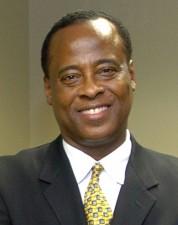 Despite being investigated for the death of Michael Jackson, Dr. Conrad Murray will star in his own, international reality TV show. The doc has collaborated with a British production company that shot footage of his return to practicing medicine on Nov. 23, TMZ reports.
The material was shot for an one-episode reality TV show, according to TMZ.
A spokesman for Murray told TMZ that the doctor was "interested in the reaction of patients to his return."
Article continues below advertisement
The crew followed a day in the life of Murray, in the office and stopping by a church.
Dr. Murray will get paid an unspecified amount once the special airs; however, the air date is not in the near future.
The doc is refusing to allow the company to air the project until the MJ investigation is complete, which can be years from now.
"Dr. Murray is currently working 12 hour days ... to pay off his child support debt," the spokesman told TMZ.
Wonder how the Jackson family — who has their own reality show, The Jacksons: A Family Dynasty, on A&E — feels about this Murray's TV Special?
Recently, Katherine Jackson has considered suing Murray for his role in her son's death.