NEWS
'Modern Family' a Weekly Favorite Among Entertainment Fans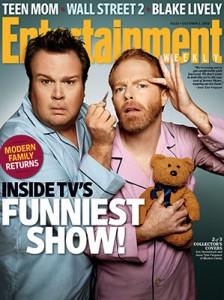 Entertainment Weekly is happy to have Modern Family back in their family. To celebrate the TV show's premiere, they're putting each Modern Family couple on their cover and chatting about what big scenes fans can expect to see next, including the big kiss!
OK! GALLERY: FOX AFTERPARTY — GLEE & MODERN FAMILY CELEBRATE BIG WINS!
Entertainment Weekly was on set for the big lip-locking scene between Cameron (Eric Stonestreet) and Mitchell (Jesse Tyler Ferguson) and spoke to the stars about what filming the Sept. 29 episode was like.
Article continues below advertisement
So did the stars decide to share a smooch on-screen due to the Facebook page "Let Cam & Mitchell kiss!" that started in May?
"It's nice that people care so much, but it kind of bums me out in that now it looks like we're doing something because somebody begged us to or pressured us to," Eric says. "The writers wanted to tell a good story and not just make a moment out of it. It should just be normal, natural, and sweet, and done in a really great way, which is how they're doing it."
"I thought it was really sweet that the fans were so avid about the show and wanted to see that happen…. That being said, it's not a Choose Your Own Adventure type of show," Jesse adds. "We have amazing writers. And we're not just going to give the fans whatever they want to see."
And yet, they seem to be doing just that no matter what they do!
OK! GALLERY: STARS SHOW THEIR APPRECIATION ON STAGE AT THE 2010 EMMYS
MORE ON:
Jesse Tyler Ferguson
Article continues below advertisement
And Entertainment Weekly even put the Modern Family kids to work by having them act as reporters to their on-screen parents!
Watch the video below!
OK! NEWS: SOFIA VERGARA SAYS HER "RIDICULOUS BOOBS" HELP HER CAREER
Shortly after Modern Family returned to TV last night a Twitter storm erupted with fans going crazy for a scene starring Sofia Vergara, Just Jared reports.
In the clip, Sofia is stirring salt into chocolate milk and for some reason fans are Tweeting things like, "I really enjoyed #modernfamily today, @Mahdi_C Tweeted. "What I enjoyed more: Sofia Vergara stirring salt into chocolate milk is all abuzz over the premiere of last night's Emmy Award-winning comedy Modern Family."
Watch the video below and see if you can figure out why!