NEWS
More Girls Cast to Play Robert Pattinson & Kristen Stewart's 'Breaking Dawn' Daughter Renesmee!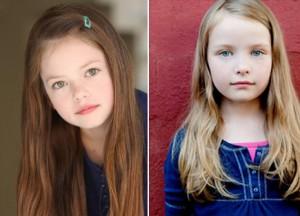 Article continues below advertisement
**WARNING!! SPOILERS BELOW!**
In Breaking Dawn, Bella and Edward have a daughter named Renesmee who is half vampire and half human which causes her to age at a fast speed. To help create that, Breaking Dawn will digitally superimpose the girls' head onto the body of others.
According to Celebuzz, Eliza Faria, Rachel St. Gelais and Sierra Pitkin have also been confirmed to play Renesmee along with Mackenzie, although she'll play the part for the majority.