NEWS
Nancy Grace on Casey Anthony's Verdict: "Tot Mom's Lies Seemed to Have Worked"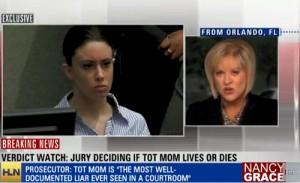 Article continues below advertisement
"And there you see a group hug by the defendants. 'Tot Mom' will be walking free. She's headed back to jail. Sentencing for a few lesser counts, false information she released, will take place 9 a.m. sharp Thursday morning," she explained. "And you gotta wonder what the state is thinking now. They gave it their all; they gave it 200 percent. They gave scientific evidence like none ever seen in the country before, behavioral evidence that knocked everybody off of their seat."
"But, in the end, Tot Mom's lies seemed to have worked."
OK! NEWS: KIM KARDASHIAN IS "TRULY SICK" OVER CASEY ANTHONY NOT GUILTY VERDICT
And Nancy has been expressing the same sentiments on her Twitter account saying the verdict is "hard to believe."
Nancy also disagrees with the defense teams apparent celebration after the verdict writing, "#CaseyAnthony defense team #Jose Baez having party inside a bar right now- celebrating. I'm not preaching... but I think that's wrong."