NEWS
Nancy Grace Speaks Out on Teen Mom Farrah's Fight for Sophia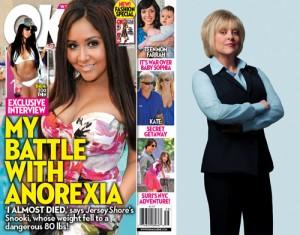 In the new issue of OK! — on sale everywhere now! — we reveal how Teen Mom Farrah Abraham may soon be in a fierce court battle with the grandmother of her daughter, Sophia, who is furious that Farrah refused to let her get to know Sophia after her son Derek Underwood — Sophia's father — died tragically in a car accident two month before the baby was born. To find out how the case might play out, OK! talked to one of the best legal experts in the field: Nancy Grace, a former prosecutor and host of the new show Swift Justice.
Article continues below advertisement
Derek's mom, Stormie Underwood Clark, has only been able to see Sophia on television, watching her grow up every week on MTV's hit show Teen Mom. Even worse, she has had to watch Sophia's other grandmother, Debra Danielson, spend time with the adorable tot.
"When Debra picks Sophia up on the show, it breaks my heart," Derek's mother, Stormie Underwood Clark told OK!.
OK! VIDEO: CATELYNN & TYLER SAY THERE IS NOTHING GLAMOROUS ABOUT TEEN MOM
"I contacted a lawyer," Stormie told OK!. "Farrah wants to move to Chicago or Los Angeles. Then I'll never see the child. I have to do something." (For more from Derek's family pick up the new issue of OK! Magazine on stands now.)
So what are her chances?
"Grandparents visitation rights are different in every state," explains Nancy. "Farrah lives in Iowa and those laws are strict. Bottom line, grandparents can only petition for visitation through the courts if all of these conditions are met:
Article continues below advertisement
• The child of the grandparent is deceased
• The parent of the child is unfit
• It is in the best interest of the child
• The grandparent has a substantial relationship with the child."
OK! EXCLUSIVE: BEHIND RYAN'S MOTIVES TO GET BENTLEY BACK
While the first of these conditional is clearly met, the others are not so obviously the case.
Farrah has been criticized by fans of the show for her occasional mishaps as a mother, including Sophia falling off a bed when Farrah walked out of the room and Sophia burning herself by putting her hand in hot water. So could she be considered unfit as a mother?
Nancy says that Farrah's choice to be on Teen Mom might be the very evidence that can be used against her in court.
"The camera doesn't lie," Nancy told OK!. "Video is some of the best evidence possible!"
OK! EXCLUSIVE: THE MAN MACI'S SON CALLS "DA-DA"
But Nancy cautions that Farrah's mistakes as a young mom are unlikely to be enough to convince a judge that Sophia needs Stormie's help.
"In my experience, for a mom to lose custody," says Nancy, "she needs to be standing on the courthouse steps in hot pants doing drugs. It's very rare for a mom to lose custody."
Article continues below advertisement
http://www.okmagazine.com/2010/09/in-this-issue-farrahs-working-on-relationship-with-her-mom/
Also, because Derek died before Sophia was born and Sophia doesn't even know Stormie, it doesn't look as if Derek's parents have an "established substantial relationship" with Sophia. So, Nancy says, Stormie's right be involved in Sophia's life is likely to be pretty limited.
"From my vantage point, the most the grandparents will be awarded is regular visitation through the courts," she concludes.