NEWS
Natalie Portman Talks "Awkward" Sex Scene With Her Good Friend Mila Kunis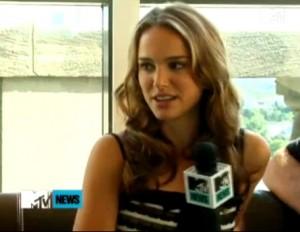 There is one scene in particular that that's receiving the most buzz from Natalie Portman's film, Black Swan, — her sex scene with Mila Kunis! And Natalie admits that scene was a little "awkward" to film considering they're good friends.
OK! GALLERY: THE GOTHAM INDEPENDENT FILM AWARDS BRING OUT AMBITIOUS FASHIONS
They may be rivals in the Darren Aronofsky directed film, Black Swan, but Natalie and Mila are been good friends in real life.
Article continues below advertisement
"It was really crazy, because Mila and I were very good friends," Natalie told MTV News. "And when Darren asked me, 'Who do you think could do this part? Who has sort of a similar height, coloring, physique?' I was like, 'Oh, Mila, Mila, Mila!' He met her and obviously flipped over her, and she's super talented and does an amazing job in the movie." Portman later realized what the pairing would entail, however. "I didn't really think through the fact that I was going to have to have sex with her in the movie," she admitted.
OK! NEWS: DAVID LETTERMAN'S PICK FOR BEST ACTRESS — NATALIE PORTMAN!
"It was pretty awkward," Natalie said of filming the scene with Mila. "I almost feel like it would be easier to do it with someone you didn't know," she said. "But, having said that, it was great to have a friend there who, we could laugh and make jokes and get over it together."
But Darren tried hard to keep the girls from being too friendly on set, since they were suppose to be rivals.
"He didn't want us to be friends while we were shooting, because we're rivals in the movie," Natalie explained. "So we both had to do this ballet training, but he would make it at different times, and then he would tell me, 'She's doing really well,' and then tell her, 'Natalie's doing so much better than you,' " she laughed. "But we would share the information, so we were like, 'He's messing with us. This isn't real, this isn't real.' "