NEWS
National UnFriend Day 2010: Are You Behind Jimmy Kimmel?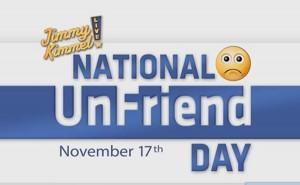 Jimmy Kimmel wants you to be selective when it comes to Facebook friends. The late night TV host declared today, Nov. 17, the first annual National UnFriend Day (NUD). The intent behind the "holiday' is to encourage Facebook users to "unFriend" people who aren't actually their friends.
"Remember five years ago when nobody was on Facebook and you didn't know what the guy you took high school biology with was having for lunch? Remember how that was totally fine? Let's go back to that," Jimmy urged his national TV audiences earlier this month when announcing NUD.
Article continues below advertisement
Two Part Announcement
Part 1: Jimmy Kimmel Calls for National Unfriend Day with some help from William Shatner.
Part 2: Jimmy receives support from Dr. Oz for his National UnFriend Day campaign.
After watching all of Jimmy's propaganda, we want to know...