NEWS
Neil Patrick Harris Earns Star on Hollywood Walk of Fame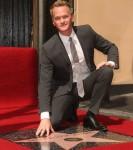 From Doogie Howser, M.D. to Tony Awards host to star of How I Met Your Mother (and oh yes, The Smurfs), is there anything Neil Patrick Harris can not do? The Hollywood veteran at the ripe ol' age of 38 earned his star yesterday on the Hollywood Walk of Fame.
With fiance David Burtka at his side, Neil also had support from costar Jason Segel and director Joss Whedon who directed the viral hit, "Dr. Horrible's Sing-a-Long Blog."
Article continues below advertisement
OK! NEWS: NEIL PATRICK HARRIS ANNOUNCES ENGAGEMENT ON TWITTER!
According to The Los Angeles Times, when Jason Segel introduced Neil to the crowd he quipped, "Neil has been entertaining us in television, stage, the Internet and film for over 60 years."
Neil sounded pretty light-hearted himself. In his speech he thanked the Hollywood Chamber of Commerce for the honor and gave props to the nearby legendary dive bar known as the Frolic Room.