NEWS
Network Head Honcho Praises Kardashians: "People Aspire to be Them or Befriend Them"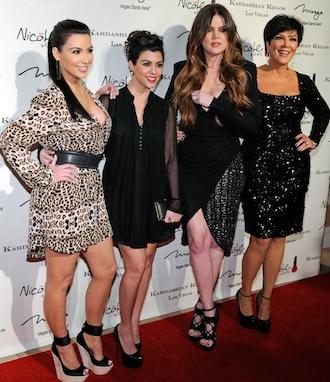 As the new year bursts onto the scene, looks like there may be two, three or even four new spinoffs in the works for the Kardashians! And if E! president Suzanne Kolb gets her way, it's mainly because viewers are intrigued and enamored by the famous family.
OK! NEWS: KARDASHIAN CHRISTMAS — KENDALL & KYLIE JENNER GET PUPPIES FOR CHRISTMAS! "People aspire to be them or to befriend them," she said. According to GossipCop, Suzanne describes the family as "an incredibly bonded, loving, large family who live an incredibly large life." So, maybe they're just your modern day Brady Bunch featuring a blended family? She recently told The Wrap, "If you actually look at the history of television, there's a pretty large number of families with that blend resonating with viewers. This just happens to be the first reality show that does it." OK! NEWS: STARS GET INTO HOLIDAY SPIRIT ON TWITTER What about the naysayers who wanted the family off the air via a recent petition? "We take every viewer comment seriously, but no, we did not consider not to be in business with the Kardashians." What are your thoughts? Why do you watch — to feel part of their family, aspire to be like them or another reason? Weigh in on the comments!
Article continues below advertisement