NEWS
New Details Released on Michael Jackson's Death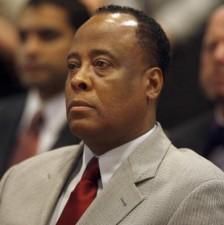 The Los Angeles coroner has released the full autopsy report on Michael Jackson's death that said it was a homicide, now that Dr. Conrad Murray has been officially charged in the King of Pop's death.
OK! NEWS: BAIL SET AT $75K FOR DR. CONRAD MURRAY IN MJ HOMICIDE CASE
Dr. Selma Calmes wrote in the 51-page report that "the standard of care for administering propofol was not met," CNN reports.
Dr. Murray told investigators he gave Michael propofol, an anesthetic, to help him sleep, but the report said "there are NO reports of its use for insomnia relief, to my knowledge."
Article continues below advertisement
"The only reports of its use in homes are cases of fatal abuse (first reported in 1992), suicide, murder and accident," Calmes wrote.
Dr. Murray is charged with involuntary manslaughter by acting "without malice" but "without due caution and circumspection."
OK! NEWS: REPORT: DR. CONRAD MURRAY WILL PLEAD NOT GUILTY IN COURT TODAY
Calmes concluded that propofol was administered without the recommended equipment present.
"There was no evidence of an infusion pump for control of an IV infusion," she said. "No monitors were found at the scene; a blood pressure cuff and portable pulse oxymeter were recovered from a closet in the next room."
The consultant said anesthesia requires "full patient monitoring by a person trained in anesthesia" and supplemental oxygen "should always be delivered."
An oxygen tank was found near Michael's bed, but was empty when the coroner investigator checked it two weeks after his death.
OK! NEWS: JERMAINE JACKSON ON DR. CONRAD MURRAY: "HE SHOULD BE CUFFED"
"The levels of propofol found on toxicology exam are similar to those found during general anesthesia for major surgery," she said.
The level of lorazepam, an anti-anxiety agent found in Michael's body, "would have accentuated the respiratory and cardiovascular depression from propofol," the consultant's report said.
If prosecutors can show Conrad did not take proper precautions when administering propofol to Michael, Bruce Cranner, a New Orleans defense lawyer in medical cases said they have "a pretty good case" against him.