NEWS
New Sexy 'Breaking Dawn' Details!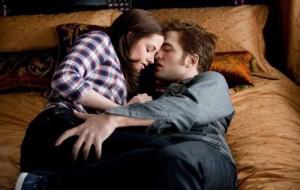 Kristen Stewart and Robert Pattinson will be turning up the chemistry for The Twilight Saga: Breaking Dawn! According to an E! News insider, "there's a little more sex in the movie" than the book!
OK! GALLERY: KRISTEN STEWART STOPS FOR AUTOGRAPHS
Rob and Kristen will have to batten down the hatches in Baton Rouge, La. to film their Breaking Dawn sex scenes because an E! News New Orleans source reports they're hot!
Article continues below advertisement
"It's dead on with the book," the source says of Melissa Rosenberg's script. "In fact, there is a little more sex in the movie, and more sexual dialogue. The script is actually good. Really good."
OK! VIDEO: KRISTEN STEWART SAYS, "I HAVEN'T MET MY DAUGHTER YET"
"The script has a pretty sexual tone with a lot of the characters this time around, not just Edward and Bella," the source added.
But, they don't get too carried away.
"There is obviously a big emotional factor in how it's written," added the source. "Still — a lot of this will be left up to Bill Condon to decide how to portray it."
OK! NEWS: BREAKING DAWN BIRTH SCENE IS INTENSE
"Remember, the most important thing above everything else is the rating,"the insider warned. "We have to keep that in mind. It's essential."
But that doesn't mean they won't take full advantage of everything a PG-13 rating has to offer and we couldn't be happier!