NEWS
Nic Cage's Ex Sues for $13 Million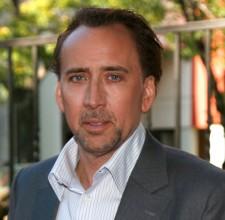 Nicolas Cage's ex-girlfriend sued the Oscar-winning actor yesterday and his former business manager for $13 million, the Associated Press reports. Christina Fulton is claiming the money as well as a home in L.A. for a series of debts she claims were caused by Nic's former business manager, Samuel J. Levin.
Christina, the mother of Nic's 19-year-old son Weston, claims Cage promised her a home in L.A.'s Hancock Park neighborhood, but that she has now been ordered to leave the property, according to the AP.
Article continues below advertisement
Nic's attorney, Marty Singer, called Christina's claims against the actor are false. He said Nic has given Christina more than the $6,000 per month he was required to pay her in court.
Cage has paid $3 million per year on behalf of Fulton in recent years, Singer said.
"From Nic's standpoint, this is really a case of 'No good deed goes unpunished,' " Singer explained.
He also said that many of the claims are leveled against Levin, whose attorney did not respond to the AP.
Christina's lawsuit is the latest in a string of financial troubles for Nic causing him to sell properties to make up for financial mismanagement.
Nic is selling his gorgeous French Quarter "LaLaurie Mansion" for $3.55 million. The house happens to be the most haunted house in America, but that is not why Nic is leaving. He owes the IRS more than $6.6 million in income taxes.
Christina and and Nic split in 1994, four years after their son was born.
Article continues below advertisement
Nic bought her a home in 2001 and told her she would own the title to the property, according to the lawsuit.
Earlier this year, Nic told Christina in an e-mail that she should sell the home if she was having financial problems. That is when Christina discovered her her name wasn't on the title.
Foreclosure proceedings have begun on the home.
Christina accuses Levin (Nic's former business manager) of failing to properly review credit statements and spot fraudulent charges. She also accused the accountant of exposing her to other debts, including a $1 million in government liens, according to the lawsuit.
Levin has been a licensed certified public accountant in California for nearly 25 years with a clean record.
Nic is currently married to Alice Kim and the couple has a three year old son together Kal-el. He is currently in the re-make movie Bad Lieutenant hitting theaters nationwide next month.