NEWS
Nick Carter Misses Sister Leslie Carter's Funeral Due to Prior Work Commitments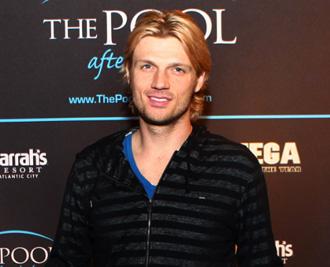 Leslie Carter, who died last week at the young age of 25, was laid to rest yesterday at 4 p.m. at a cemetery in Chautauqua County after a service took place in Freay Funeral Home in Mayville, N.Y.
A source tells E! News that the funeral "was a very wonderful and touching ceremony."
OK! NEWS: LESLIE CARTER DIED OF AN APPARENT OVERDOSE, ACCORDING TO POLICE REPORT
Among the 60 or 70 mourners in attendance were Aaron Carter and his mother Jane, as well as other family members and friends. Sadly though, Nick Carter was unable to attend the funeral due to performance commitments he'd made in New York, New Jersey and Pennsylvania.
Article continues below advertisement
"I wanted to be at my sister's funeral, but my family has always had a complicated dynamic," Nick tells Insider.com. "I love my family. I want to thank everyone for all of their compassion and support that I have received during this most difficult time. There are so many emotions for me surrounding the loss of my sister. I am trying to stay healthy, positive and focused."
Nick made appearances at the Trucadero Theater in Philadelphia, Penn., and The Pool After Dark at Harrah's Resort in Atlantic City, N.J., over the weekend and will perform a concert at the Paradise Rock Club in Boston, Mass., tonight. He stated last week that he would not be canceling his tour, but dedicating it to Leslie, saying, "Performing is cathartic to me, and I am dedicating the rest of my tour to my sister since she loved to watch me perform."