NEWS
Nick Jonas to Fly Solo with New Act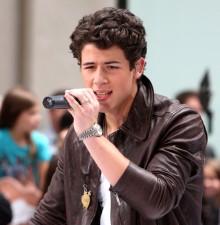 Don't worry Jonas Brothers fans — while Nick Jonas is planning to go solo, that doesn't mean the band is breaking up! He's just branching out: "Nick is working on a solo act — it's called Nick Jonas and The Administration," mom Denise Jonas tells Parade.com.
"Shhh! He's at the photo shoot for the album cover right now," she adds in the interview.
The mom of three famous boys isn't too proud to brag about son Kevin's upcoming marriage to fiancée Danielle Deleasa, either.
Article continues below advertisement
"Kevin and his fiancee Danielle have set their wedding date — but it's completely private. Danielle, bless her heart, is from a great little Italian family. She is everything I ever prayed for and hoped for Kevin," she added.