NEWS
Nick Lachey Talks Wedding & 'Brood of Babies' With Vanessa Minnillo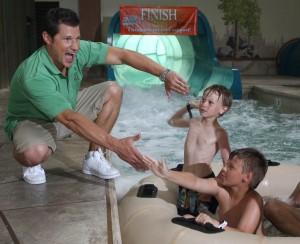 On Friday, Nick Lachey sat down with OK! at the annual "World's Largest Waterslide-athon" to discuss his upcoming wedding to fiancée Vanessa Minnillo, hosting duties for the third season of NBC's The Sing-Off, and his ties to Big Brothers Big Sisters. Great Wolf Lodge pledged to donate $1 to BBBS for every ride taken down their slide and, Nick was there to help spread the word! As honorary spokesperson, it should come as no surprise that Sing-Off host has a Little Brother.
Article continues below advertisement
"I met him when he was seven years old and he just turned 15. It's great to keep the continuity and once the relationship's established you want to keep it going," Nick tells OK!. "The whole idea is to become a support system…so you want to stay in their life and certainly it's been awesome for me to be able to stay in his life."
OK! GALLERY: HAPPY BIRTHDAY TO THE NEWLY ENGAGED NICK LACHEY & VANESSA MINNILLO
Singer, songwriter, actor, and television personality, Nick has another title – fiancé! Ex-husband to Jessica Simpson, he found love again with one-time MTV VJ Vanessa. They first met in 2006 on the set of Nick's "What's Left of Me" music video, where Vanessa reportedly confessed her crush on the singer in the past. The two began dating and after reuniting following a brief breakup, Nick proposed in November 2010. OK! wondered if the couple recently watched the video that brought them together.
Article continues below advertisement
"We watch it every night before we go to bed," Nick joked. "Honestly," he adds, "we did watch it recently… just because it was kind of like a walk down memory lane."
And as for how the wedding plans are coming along, Nick admits, "We're just in the middle of planning it. The one thing I'll say is that we're having fun with the planning process… making all these decisions, trying the cakes and all that good stuff."
Many look to Vanessa for the decisions on details but, Nick tells OK!, "I've tried to put myself in charge of some of the music being a music guy... and then the cake decision is one…I just want to make sure that the cake's good."
On May 30, after tweeting, "My liver is furious with me!! Great time last night at our wedding shower. Thanks to everyone who came out!" OK! just had to ask if his wedding would be as boozy as the shower.
Article continues below advertisement
"Gosh I hope so," Nick quipped, however, "That was obviously a half joking tweet, my liver is no longer furious it's just slightly frustrated."
Wedding shower? Check. As far as bachelor/bachelorette parties go, will they play it safe and forgo the celebration?
Nick shares, "We're going to have them. It should be fun. When you get to be my age… it's a great excuse for everyone to get together and tie one on and see people you haven't seen in years." While the singer does enjoy Vegas, he wouldn't confirm whether the couple would spend the night in The Hangover stomping ground.
As honeymoon rumors escalate, could Vanessa have let Twitter in on the plans? On June 3, she tweeted, "Today I got Yellow Fever, Typhoid & Tetanus… Immunizations that is! More shots next week. Africa here we come! #BucketList before babies!"
When pressed, Nick told OK!, "I mean it could be a mission trip, it could be a honeymoon…i t's just a trip. Having been there once before it's a life changing experience and I'm excited to take her and share that with her."
Article continues below advertisement
And as for the babies OK! couldn't help notice being mentioned, Nick thinks Vanessa will be a great mom. An uncle to brother Drew Lachey's children, 37-year-old Nick reveals, "We want a family and I think we probably want to start sooner than later obviously."
Despite plans to start another solo record, the singer wants "a brood of babies" with Vanessa, although as "someone who doesn't have any," Nick told OK!, "I just want to start with one and see where it goes from there."