NEWS
Nickelodeon's 'The '90s Are All That' Show Revival Is "Very Exciting" to Kenan Thompson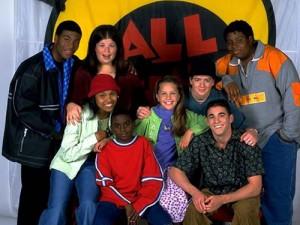 Nickelodeon has brought back some classic shows from the '90s and put them on late at night on Teen Nick and so far it's been a huge hit amongst twenty-somethings, including former '90s Nickelodeon star, Kenan Thompson.
OK! NEWS: NICKELODEON BRINGING BACK '90s SHOWS THIS FALL!
TeenNick started showing old '90s Nickelodeon shows this week including All That, Clarissa Explains It All, Kenan & Kel and Doug at midnight for two hours and fans are thrilled.
Article continues below advertisement
Even Kenan, who starred in All That and Kenan & Kel, understands how this age group of fans feels nostalgic for those shows.
"We're all at that age now where we're night owls; everybody's up anyway," he explained to MTV News. "It's a good idea for a spot. It's crazy that it's working because it's like 10-year-old material that's holding up against these shows."
And he was very "excited" by the public response to the revival of those shows.
"I thought it was crazy, "Kenan said of when he first heard about the shows returning to Teen Nick. "It was very complimentary and felt really nice of them to do that, and it's all fan requested and then that made it even better."
OK! NEWS: NICKELODEON'S DRAKE BELL & DANIELLA MONET PROMOTE NEW MOVIE AT PLANET HOLLYWOOD IN NYC
Kenan also thinks he knows why the shows are so loved.
"That's always made kids feel good watching it," he said. "We were doing relatable material, and it wasn't so forced. We just happened to be kids doing stuff."
Check out TeenNick.com to relive the '90s with your favorite shows!
What have you thought of Teen Nick's "The '90s Are All That" so far? What other shows would you like to see on?