NEWS
Nicki Minaj to Debut New Character on 'Pink Friday'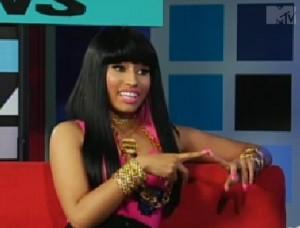 Nicki Minaj is known for her alter egos Roman Zolanski and Barbie, but she's ready to add another to the list. When her new album, Pink Friday, hits stores you can expect not only a collaboration with Eminem but also to be introduced to another new character!
OK! NEWS: GLEE TO UNITE WITH JERSEY SHORE AS PRESENTERS AT 2010 VMAS!
Nicki recently revealed to MTV News that Friday will also be the debut outing of a spanking-new character.
Article continues below advertisement
"There is a person introduced on Pink Friday — it's Roman's mother," Nicki told MTV News during her "RapFix Live" interview. "Roman has a mother."
Nicki doesn't want to reveal too much before her album is released next both, but says the fans will love the new character!
"You gotta wait," she said. "You gotta wait for November 22 to meet Martha, but you're gonna love her. You're gonna absolutely adore her."
But the name of Roman's mother, Martha, is subject to change.
"I may change her name," Nicki explained. "I just made up her name on the spot."
Although she didn't give up details about Martha's style, she did school MTV News' Sway on the difference between Roman and Barbie, swinging between the full-throated zaniness of the former and the feathery vocals of the latter, both of whom pop up on Nicki's hit verse on Kanye West's "Monster."
OK! VIDEO: BIEBER FEVER HITS 2010 VMAS
Nicki was initially nervous to perform her characters with the famous stars she's performed with.
"Sometimes I feel like maybe the characters ... maybe someone like Jay-Z wouldn't like that. Sometimes I do limit myself if I overthink it," she said. "All I heard was the beat and the hook, and that's what inspired that."
Watch Nicki's interview below!