NEWS
Nicki Minaj Defends Her Decision to Drop Out of Hot 97 Summer Jam Concert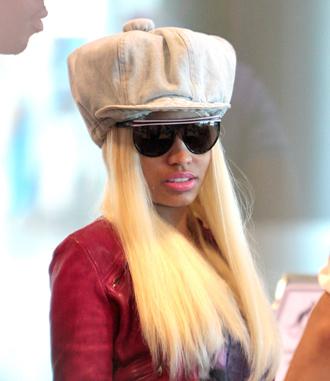 Nicki Minaj has no apologies.
OK! NEWS: NICKI MINAJ DROPS OUT OF HOT SUMMER 97 JAM AFTER DJ DISS
This weekend, Nicki Minaj was scheduled to headline the Hot 97 Summer Jam concert in New Jersey but backed out at the last minute after Hot 97 DJ Peter Rosenberg called her song Battleships "not real hip-hop."
Lil' Wayne, Cash Money records president and CEO of Young Money, was the one to initially advise his protégé to stick up for herself and pull out of the concert.
Article continues below advertisement
Nicki agreed to call into Hot 97 last night and chat with Funkmaster Flex about the move, and things got a little heated between the two.
Flex challenged Nicki, saying she should have gone through with the performance for the sake of her fans, while Nicki disagreed and said she pulled out precisely for her fans.
"It's not about his opinion, because I have opinions about DJs on Hot 97 and I have opinions on Hot 97," she said. "But when it's about us uniting people for your show, I wouldn't dare come on your stage and say something negative about Hot 97, leading up to that concert...My fans at Summer Jam didn't appreciate his comments, nor did my fans who were watching the live stream appreciate his comments."
Nicki then went on to say she was grateful that Lil' Wayne took the time out call her and give his opinion.
OK! NEWS: NICKI MINAJ DEACTIVATES TWITTER ACCOUNT! WILL SHE BE BACK?
"Before I had New York radio, I had Wayne," she said. "I can't believe after all these years, he's still teaching me. After a man goes onstage and disrespects me and tries to rile people up, I still was going on that stage, and shame on me. Lil Wayne gave me a valuable lesson in self-worth."
While Flex and Nicki disagreed, the two came to a mature stance by the end of her guest appearance, which led to Nicki sending out a farewell tweet after the show.
"Next year every artist will be treated with appreciation @ summer jam. Its love not war. #Human and flex is fine by me. #mademypoint #imgood"