NEWS
Nigel Lythgoe on 'American Idol': "I Will Hopefully Get to the Truth"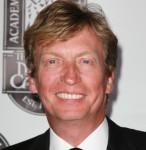 Nigel Lythgoe is just as unsure with what's going on with American Idol as the next person. But, he's determined to get to the bottom of it — once he finishes up So You Think You Can Dance.
OK! GALLERY: SIMON COWELL JET-SKIS ON THE HIGH SEAS IN ST. TROPEZ
Nigel has a lot on his plate right now trying to balance his responsibilities to So You Think You Can Dance and American Idol at the same time.
So, he's not exactly sure what the latest is on the American Idol judging situation.
Article continues below advertisement
OK! NEWS: NIGEL LYTHGOE'S PLANS FOR IDOL DON'T INCLUDE PAULA ABDUL
"I'm not part of the Idol team at the moment," Nigel told OK! at the finale of So You Think You Can Dance at CBS studios. "I've said I want to concentrate on So You Think You Can Dance."
"I go back into the Idol team next week," he explained to OK!. "I will then hopefully get to the truth and not listen to—the only people who are talking about it at the moment appears to be the media—FOX isn't talking, Freemantle isn't talking and 19 isn't talking and it's just the media talking amongst themselves at the moment so while I can't give you anything proper, it's not worth me talking about it."
OK! NEW: NIGEL LYTHGOE RETURNS TO IDOL AS EXECUTIVE PRODUCER
And right now he's continuing his focus on SYTYCD.
"I have a vision of a beautiful young lady who's just won So You Think You Can Dance!" Nigel said.
Laura Froderman took home the grand prize on Thursday night's live finale show.
Reporting By Carole Glines