NEWS
Nigel Lythgoe's Plans for 'Idol' Don't Include Paula Abdul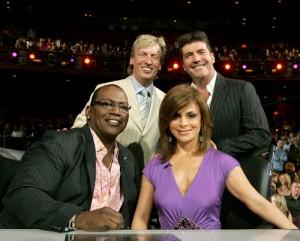 Article continues below advertisement
"I would of loved to get Paula Abdul on So You Think You Can Dance too," Nigel told Access Hollywood. "I sort of go around saying, 'You know, I'd love for you to come on the show Paula, and she always says yes to me but, of course, she can't do it."
But Nigel hopes Randy will stay as an Idol judge saying, "I think it's really important to keep as much continuity as possible but at the end of the day."
OK! NEWS: NIGEL LYTHGOE RETURNS TO IDOL AS EXECUTIVE PRODUCER
But it still has to be decided who the other judges will be and Jennifer Lopez and Steven Tyler are not set just yet.
"I'm going back to join the team now. So, we'll all be discussing it," Nigel said of the new judges. "What I would recommend… is that we don't just don't look at the individuals but we look at how they sit together."
"I think we've lost a little bit of focus and we've concentrated on the judges… Kara DioGuardi joining, making four judges. Do we need four judges?" Nigel asked. "Simon Cowell didn't get to say anything and then Paula leaving and then Ellen DeGeneres joining and then Simon leaving. It was all about the judges and we forgot about the main thing, which is the talent and who is going to be the next Idol and are they worthy of that title."
Article continues below advertisement
OK! NEWS: STEVEN TYLER ON AMERICAN IDOL — "I'M DOING IT"
And aside from the judges, Nigel has plans to change the number of contestants too, to focus on the top 12.
"I think there's too many people. You don't know who they are. You're asking the public to vote that doesn't know them. They're going on the strength of maybe knowing a song rather than knowing the kids talent," he explained. "So, I would like to see that Hollywood area… become much more focused, seeing them work with other stars."